Cosmetic stones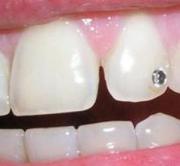 Lately among young population the application of tooth jewelery especially at front teeth has become popular . According to patients wishes and considering the oral functions the best place to put the jewel in is decided.
There are 2 main types of tooth jewellery available:
Twinkles: – This is a collection of 24-carat gold and white gold jewellery. The jewellery is available in over 50 different designs with some including diamonds, sapphires and rubies.
Dental Gems: – Are a range of glass crystals are available in nine different colours – diamond, rainbow, ruby, sapphire, emerald, emerald green, aquamarine, pink, sapphire light.
The dentist will use a dental adhesive to apply the Jewellery to your tooth.The procedure is similar to placing an orthodontic bracket on a tooth. There is no drilling involved and the procedure is completely painless.The fitting procedure should take no more than 10 to 15 minutes.The tooth Jewellery can last on your tooth indefinitely or for as long as you want it.When properly placed by a dentist, the tooth Jewellery will not damage or harm your tooth in any way. Tooth jewellery should only be applied to natural teeth.If you would like to remove your tooth Jewellery the it can be taken off by a dentist at any time
First the place where the jewel will be put is cleaned with pumice. After a minor etching on the surface the jewel is applied with bonding protocol and hygiene instructions are given to the patient.